Loan Portfolio Investment Strategy
Private Lending
Island View Private Loan Fund's (IVPLF) core investment strategy focuses on private lending to entities purchasing real estate such as non-owner occupied houses, fix and flip properties, and 1-4 unit rental properties. While most private loans or asset-based lenders rely primarily upon the value of the real estate backing the mortgage to determine a loan decision, IVPLF takes a more comprehensive approach. In addition to documenting equity in the property, we also review the borrower's experience level, liquidity, income, payment history, and exit strategy for repaying the loan.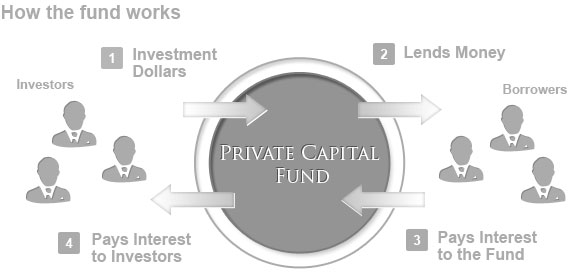 The fund's investment goals are to combine healthy returns with low risk by investing in loans underwritten in a way that fully documents the financial profile of the borrower, an uncommon practice for most private lenders in today's marketplace. Our established investment parameters target property's with equity in excess of 30% above the loan balance. Each loan package is reviewed with the following criteria in mind:
Formal Loan Review Process
The borrower possesses the financial ability to repay the loan
The borrower has previously documented experience
An independent 3rd party appraisal valuation of the property
Evidence of how the loan will be repaid
Title insurance to protect the loan's 1st lien position on the property
Homeowner's insurance coverage on the property
The loan committee takes great care and detail underwriting each loan opportunity to ensure it is suitable for the fund's portfolio.
There are two investment vehicles through which investors participate with Island View Private Loan Fund:
1) Direct Investment: Accredited Investors
A capital investment is made directly into Island View Private Loan Fund. Investors make a capital contribution in an amount they designate and the fund then places those dollars in new loan opportunities. For Direct Investments, the Managing Partners of IVPLF oversee all daily operations including loan underwriting, due diligence, funding, servicing of the loan portfolio, and financial reporting. Annual profit payments are made to investors. Direct Investment allows accredited investors a secure and passive means for investing in private mortgage loans.
2) Loan Assignment: All Investors
A capital investment is made in exchange to acquire ownership of individual or multiple loans directly from Island View Private Loan Fund. Investors purchase an entire loan via an assignment of mortgage from IVPLF, taking ownership of the mortgage in their name. The fund arranges the loan assignment documentation with the investor, and continues to coordinate the loan servicing on their behalf. Interest payments are paid monthly. Many of our self-directed IRA clients have taken advantage of this program to passively diversify their retirement portfolio.
Contact one of our Managing Partners to learn more about our private lending investment options.